Kristin Deasy is a freelance writer from California based in Argentina
The abundance of teas on offer in any local supermarket raises the obvious question: are all teas are created equal?
The world of tea – a diverse and subtle one – can be difficult to navigate for the average person. It's hard enough to choose between the near-universal options of black tea and green tea. Which is better? The uncertainty mounts…
The good news is, a little knowledge goes a long way. Rather than leave your next tea selection up to chance, here are three basic things to know about tea – keeping them in mind will help you make an intelligent choice:
The main teas (green, black, oolong, white) all actually come from the same plant – the tea plant – but are processed differently.
Studies show that green tea has slightly more health benefits than black tea, while black tea typically has slightly more caffeine than other teas.
As always, the manner in which you prepare your tea and the quality of the tea leaves themselves are just as important to health as the type of tea you choose to drink.
The main players in the world of tea are, of course, green tea and black tea. Given that they come from the same plant, you may be wondering why are they two different colors. The answer lies in what happens when the tea leaves are harvested from the tea plant, AKA camellia sinensis, a shrub that originates from India and Asia.
For green tea, harvested leaves are steamed or dried, then re-heated via dry-roasting or tumbling to stop oxidation – thus preserving its color and giving green tea its distinctive taste.
Black tea, on the other hand, is black because the tea leaves have been oxidized after crushing or rolling them, creating a more concentrated flavor and a slightly different nutritional profile.

Regarding health benefits, teas in general offer flavonoids, which are plant compounds that offer antioxidant effects said to reduce the risk of cardiovascular disease.
Green tea has a considerably higher concentration of flavonols (a subtype of flavonoids) than black tea – see this table for details – but other than that, their profiles are pretty much the same.
Preliminary studies reportedly indicate that a specific flavonoid present in green tea, known as EGCG, could help fight cancer.
According to the International Journal of Food Science and Nutrition, the "flavonoids in green and black tea have stronger antioxidant activity than standard antioxidant vitamins," adding that a typical cup of tea is "400 percent greater than a cup of orange juice."
In short, more flavonoids make for less toxins, less inflammation and less risk of heart disease. Yay!
In addition, both green and black teas are said to possibly help reduce the risk of contracting type 2 diabetes by helping regulate blood sugar levels.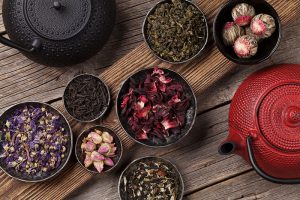 "Through a complex biochemical reaction, tea — especially green tea — helps sensitize cells so they are better able to metabolize sugar," New York cardiologist Suzanne Steinbaum, DO, told Everyday Health.
Teas also contain powerful micronutrients called polyphenols that Steinbaum said "reduce oxidative stress and cause vasodilation (widening of the arteries), which decreases blood pressure, prevents clotting, and reduces cholesterol."
Green tea contains more polyphenols than black tea. However, if you prefer black teas, Dr. Steinbaum's got a tip for you: look for orange-colored black teas. "[T]he more orange the color, the higher the polyphenols," she said.
At the end of the day, green tea beats black tea on nutrition, but whatever tea you choose will provide you with an array of health benefits.
Just make sure you double-check the ingredients before you purchase: many tea products come pre-sweetened or have other additives. Loose leaf teas are likely higher quality, nutritionally speaking, in that they have more bioactives.
That said, your average humble teabag is reportedly more likely to contain not just tea leaves but also the stems, which in turn are said to have more L-theanine. L-theanine is believed to cause the relaxing feeling you get while drinking a cup of tea. Another way to increase L-theanine (along with all the bioactives present in tea) is a longer brewing time, ideally several minutes, according to The Conversation.
Finally, as with everything, tea is best consumed in moderation, as it does contain caffeine. But enjoyed responsibly, tea is a wonderful healer for the human body.
Maybe it's a good thing it's the highest-consumed beverage in the world, second only to water!
Kristin Deasy is a freelance writer from California based in Argentina. She is passionate about nutrition and recently opened a restaurant oriented towards clean eating in Patagonia.